OUR PROCESS
BUILDING YOUR CUSTOM STRUCTURE BEGINS WITH A GREAT DESIGN.
We believe building effective relationships is the key to any successful project. We will collaborate with your preferred contractor and interior designer to ensure everything runs smoothly during the duration of your build. For residential, commercial, or agricultural projects in any type of style – from traditional to contemporary – our goal is to bring your vision to life.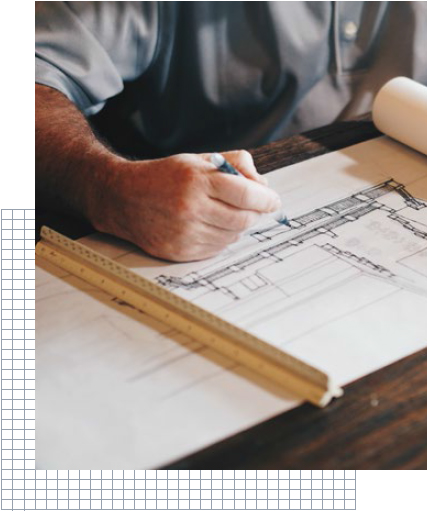 Consultation & Planning
The Big Picture
Every home renovation or new build project starts with an idea. We'll sit down with you, listen to your vision, and begin the process of turning your dreams into a reality.
If you're looking for a new build, we'll discuss your style preferences and lifestyle requirement. If it's a renovation, we'll review your existing property so we understand the starting point and what you'd like to change. Then we'll work together to produce preliminary drawings that match your needs and budget expectations.
Concept Drawings
Your Vision Takes Shape
We'll work together to put your initial ideas on paper, including custom concepts that will take your project from good to great. The plan should reflect your tastes, lifestyle, and budget.
We can also create 3D renderings that allows you to fully visualize your project before it is built to make sure it's a perfect fit for your family or business. Once the draft drawings are complete we recommend you collaborate with your contractor to ensure the proposed build will meet your budget.
Construction Drawings
Once the concept is finalized, we'll produce permit-ready drawings that include updated plans, elevations, beam and joist sizing, as well as preliminary material selections. After the drawings have been signed off by our qualified designers they are ready for Building Permit Submission!